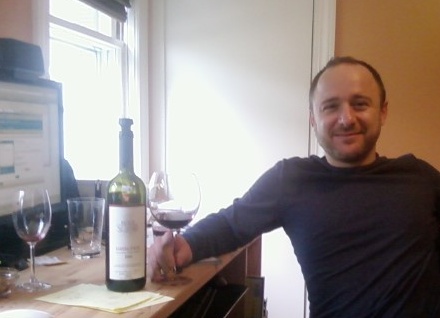 I brought home several small production wines to try for the E-Club Special over the last week or so.  Two wines made it to the final cut.  One was a Bordeaux, the other a  Barbera D'Alba.  They are both great, but the Barbera won.  Why?  It's going to be 50 degrees on Saturday and
I NEED to feel some warm weather and drink a wine that TASTES like warm weather.  Like a spring day after rain, I wanted
a wine that is
vibrant
, fresh, crisp, lively and even a little raw.    This wine from the Piedmont area of Italy fit the bill.  


Historically, Barbera's only apparent redeeming quality was its cheapness or more modestly put, its value. Perhaps it has had a lesser  reputation because it is a primary
Piedmont resident in Italy's northwest wine region, where the other two grape varietals, Nebbiolo and Dolcetto, overshadow Barbera in respect and admiration.   After Sangiovese, Barbera is the second most planted grape in the boot-country, but there's no correlation with that fact and that people love and praise their Chiantis, their Brunellos, and their Barolos more. While Barbera is sometimes sneered at, bottles of it are commonly found as the
table wine
in Italian restaurants. What do the restaurants know that others don't? Barbera is an everyday kinda wine that is underrated and under appreciated.
This weeks E-Club Special, the
2008 Pa

olo Scavino Barbera is

MUCH, MUCH more then your everyday table wine.  To me, right now, it's fresh and vibrant personality gives me assurance that it's going to feel like Spring this weekend.   If you do the research and tasting you'll find that this notable  Barolo producer takes his wines to a new level.  The 2008 Barbera D'Alba is no exception. His 2008


                                                  (Encrico Scavino and his daugther Enrica at home in the vineyard)
Barbera is aged in steel vats, a.k.a "un-oaked".   While many white wines see ageing in steel (i.e. Sauv Blanc), few reds do. This makes a huge difference in taste versus wine that is aged in oak.   When aged in steel,
wine retains a freshness
that can get lost when the wine is aged in oak barrels.  Also, the fruitiness of the wine aged in steel doesn't get masked by oak so you'll be able to more appreciate the very ripe and forward fruit flavors.    This Scavino Barbera struck me as such a great wine because of the freshness, but even more so because the wine was full bodied.   I didn't expect this wine to have such a  mouth coating, rich berry flavor. 


The two areas in Italy we typically see the Barbera grape from in the US are Alba and Asti.  Barbera D'Asti tends to be lighter and racier while Barbera D'Alba can be fuller and rounder in the mouth.   But either way, lively aroma and fresh flavors are what these wines are all about. 
Some other un-oaked reds can  include Beaujolais and  Cotes-du-Rhone.  If you like either of these types of wine, this Barbera D'Alba is a must try. 
What else is great about Barbera?  Like just about any Italian wine it's great with food.  Where Barbera wins over other Italian wine is it's flexibility.  Typically Barbera has good acidity to make it a natural choice
with food, particularly with pizzas, pastas, grilled poultry and meats.


2008 Paolo Scavino Barbera D'Alba

Regular Price $26.99
On Sale now @ $16.99 (over 35% off)

90 Points from Wine Spectator and only 700 cases produced

"This is really classy, with crushed raspberry and strawberry aromas. Full-bodied, with bright acidity and a tangy, fruity and flavorful finish. This is so delicious. Drink now. 700 cases made." - James Suckling