A couple of wines I'm excited about this week:


1) 2008 Victor Hugo Zinfandel from Paso Robles -

Paso Robles Zins are usually softer and rounder than

their counterparts from the north in places like Dry Creek and Lodi.  This '08 Victor Hugo Estate Zinfandel from Paso Robles fits the bill, and is PACKED with juicy red fruits (think about biting into ultra-ripe raspberries, strawberries and blackberries in the summer), and just the slightest hint of tobacco to give it a little earthiness. 

One of the first comments I made after trying this 2008 Zinfandel was how natural it tasted.  I know, "natural" is a broad term.  Heck, mud is natural, but so are fresh berries - so what do I really mean by natural?  The quick and easy answer is that a naturally produced wine is going to have minimal intervention from the wine maker.   The grapes and wine are an expression of the place from which they come. 

This Zin literally reeks of blackberries and it is not the kind of smell you can manufacture.  The mouth feel is supple, rich and round, and after swallowing you don't get any of the harshness, bite or burn you get from some other young Zins. 

Victor Hugo (as far as I know, no relation to the Victor Hugo who wrote Les Mis) is a small, family-run winery in Paso.  His winery hits just about all the checkpoints for what should make a great wine:
Limited Production -Only 983 cases produced of the Zin in 2008
Estate Grown - All the fruit for his Zinfandel is grown on his property
Hands-On: All the grapes are harvested and sorted by human hands.
Family Owned and Operated: But more importantly, dedicated people putting their name on the line year after year.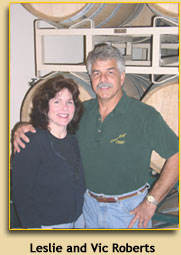 My favorite thing about this wine is that it's balanced.  Sure, it's 14.9% alcohol, but you'd never guess it because Victor (and mother nature) absolutely nailed the sugar/acid ratio in this wine and the result is pure berry bliss.  I tasted several of his wines last week and honestly I thought this Zin just blew away everything else.  Maybe it's his 35+ years of wine making or maybe it's the ocean breeze, cool nights and the warm days in Paso.  It all matters, but what's most important is that you get a great wine for the price. 







2008 Victor Hugo Estate Zinfandel

If words like luscious, fruity, round, soft and smooth get your wine juices flowing, this one is definitely worth a try. 

Regular Price $21.99
On Sale @ $15.99 per bottle. 

Located at the front counter and in the Zinfandel section.








---

2) I snagged a couple great "cellar selection" wines at a hot price.

A) 2005 Terlato "Stag's Leap" Cabernet at nearly 60% off

Regular $64.99, special E-Club price for you $39.99.  8 cases in stock.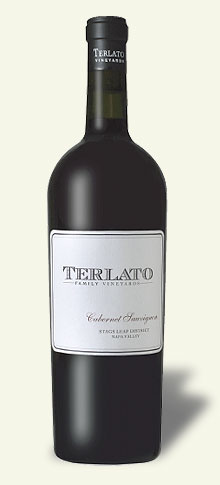 From the highly praised Stag's Leap District, comes this 2005 Terlato Cabernet.   This is a wine that is a great value to plop down in your cellar for a few years or if you have no patience like me, you can let it decant for a few hours. 

If you liked the Shadowood Cab we offered a couple months back, you'll love this wine.  It's a delicate and elegant cab, produced only with the free-run juice which adds to it's refined taste.  It's not a big blockbuster cab but more in the intricate, complex and smooth style. 

Here is a link to an informative review from local blogger, Richard Auffrey who created the blog, "Passionate Foodie" - Scroll down the page to see the review of the 2005 Cab.  |

Here is what Richard said about the 2005 Terlato Cab:

"The grapes for this wine come from the Stags Leap District, often said to be the best location in California for Cabernet Sauvignon. And it is wines from this region which bested French Bordeaux in the famous 1976 tastings.
This wine wine has an alcohol content of 13.8%. Only free run juice is used to make the wine, which is considered the best of the juice. The wine is fermented in stainless steel and then aged in French oak for about eighteen months. It also sees a year or so of bottle aging. Only about 363 cases of this wine were made so it definitely is limited production.
This wine just blew me away! It has a rich, dark red color with a stunning nose of dark berries, vanilla and chocolate. It is a full bodied wine, rich and with very supple tannins. It has a complex melange of flavors including blueberry, vanilla, black cherry, and maybe a hint of cinnamon. It is well balanced and has a delightful lingering finish. It was such a smooth wine, something that you could enjoy on its own, savoring each mouthful. This is a wine you could drink young or which could sit and age in your cellar. A superlative wine that I cannot recommend enough. It is well worth its price tag and could easily compete with Cabernets at twice the price. I made sure to pre-order some for myself."

 
---
B) 2004 Paolo Scavino Barolo Bricco Ambrogio



Regular $69.99 on sale for $44.99 per bottle

This is another one that could go into the cellar for a few years or drink now with some decanting.  I enjoyed a bottle of this one last week and it got so much better as it was open.  It took about four hours to really open up.

The "Big 3" all agreed that this wine is fantastic as well.....

Rich and ripe for the vintage, with lots of plum, nectarine and rose bush aromas. Full-bodied, with a solid core of ripe fruit and velvety tannins. Long and fruity. This is the third vintage of this single-vineyard wine and it's getting better and better. Best after 2012. 600 cases made.  Wine Spectator / 93 Points

The 2004 Barolo Bricco Ambrogio is the most forward of these 2004 Barolos. Made in a fruit-driven style, this plump, juicy wine is packed with sweet dark fruit. White pepper, truffles, plums and prunes develop with air, but this wine is ultimately more about immediacy than complexity. Still, it offers much pleasure. Anticipated maturity: 2009-2019.   Robert Parker's The Wine Advocate / 92 Points

Good deep red. Aromas of redcurrant, plum, graphite, flowers and nutty oak spices. Sweet, smooth and pliant, in a very ripe, soft, chocolatey style. As sweet as this is, it's quite shapely as well, finishing with perfumed truffle and earth. Stephen Tanzer / 91 Points