Azienda Agricola Calatroni 2010 Pinot Nero (Noir)
Oltrepo Pavese, Italy

#1 Rated Pinot Noir during a large format blind tasting and now "exclusive" at our shops in Concord and Sudbury.

Regular Price $19.99
Special Price $15.99
In-stock now at both shops.

I recently had the opportunity to attend a Pinot Noir tasting at a fellow wine geek's home.  Specifically, we were gathered there to blind taste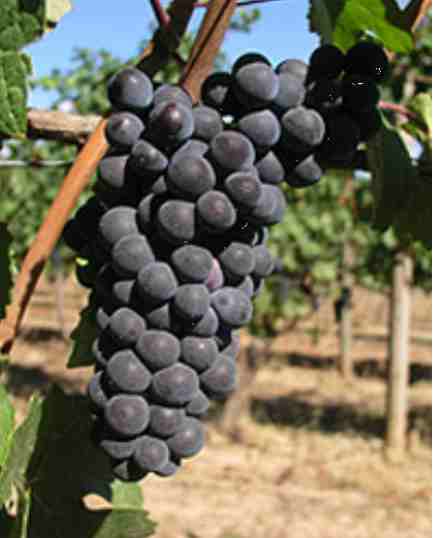 2009 Pinot Noirs from around the globe.  While the majority of the wines came from America (12 of 17) there was a representative from most of the better regions known for producing excellent examples of Pinot Noir.  A late addition to the lineup was a Pinot Nero (aka Pinot Noir) from the Lombard region in Northern Italy.  One of the guests had brought it as a warm up wine - pre-tasting- but the host reckoned it would make interesting fodder amongst this group of Pinots.


Blind tasting is a powerful, democratic equalizer. Before and even during a tasting, we don't realize how much a label can influence our expectations and perceptions of a wine.  Believe it or not, many drinkers and some "experts" can't tell the difference between red and white wine if the color has been hidden from them in opaque glasses.  Not knowing what you're tasting gives every wine the chance to come out a winner based solely on its own merits.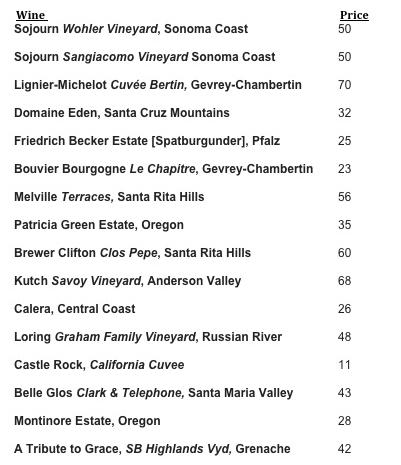 After seeing the list of wines to be tasted, in no particular order, I made some general assumptions regarding what I would end up liking most and also what the general crowd would choose as best in show. I assumed I would like the classic styles from France and the lighter styles from Germany, while the more balanced American wines might make a showing. That's just how my tastes roll.  On the other hand I assumed that the bigger, rounder, sun-kissed American wines would win the day because their bold flavors can overpower the more delicate, cool climate wines.  My tastes tend to run contrary to these bolder, richer wines.  But, as I said, blind tasting is a powerful equalizer and the number one wine was a bit of a shocker.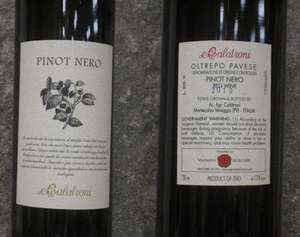 I suppose at this point it should come as no surprise to anyone that the number one wine of the evening (it tied for first place with a Californian wine) was the upstart Pinot Nero (not even on the list above) from Lombardy. This little $20 wine beat out 15 other wines, nine of them in the $40 - $70 range. A David vs. Goliaths. To be fair, not everyone picked this wine as their number one wine; the ranking was decided by voting for your top three. The wine with the most overall votes/points got bragging rights. I think for everyone there it was a surprising outcome. Very democratic, this is a wine of the people.

Azienda Agricola is essentially Italian for farm and that is exactly what Calatroni is – a working farm and winery run by Fausto, his wife Marisa and their two sons Cristian and Stefano. Like most vineyard farms in Oltrepo Pavese, the grapes planted here are varied and include not only Pinot Nero, but Riesling, Bonarda, Barbera, Pinot Bianco and Pinot Grigio. Established in the early seventies, they farm 15 hectares (about 22 acres), on soils primarily of limestone, as sustainably as possible. Fermentation takes place in stainless steel tanks and the Pinot Nero ages for a time in barrique.





The wine is a shining, clear, ruby red. Fragrant and aromatically complex, it puts out red raspberry, red currant and cherry fruit flavors which marry well with a touch of green herb, spice and toast. The wine is dry with delicate tannins and a bright tart cherry component offset with limestone mineral, spice and a hint of tanned leather. With a supple mouth-feel, this wine is pleasurable to sip on while conversing about whatever moves you, but, really, drink this with food. Try pork, chicken, pasta, cheeses or a light beef dish. I think you will be delighted!

Cheers!

Azienda Agricola Calatroni 2010 Pinot Nero, Oltrepo Pavese, Italy

Regular Price $19.99
Special Price $15.99