2009 Tour de Luchey Bordeaux Rouge
Regular Price: $11.99

SALE Price: $8.99 net
SAVE 25% on a single bottle
Over the last couple of years, we've sold cases upon cases of numerous wines from the wonderful and 2009 Bordeaux vintage.  In a near perfect growing season like 2009, we've found so many great values for less money then a gourmet cheeseburger. 
As we near 2013, quantities of the 2009 Bordeaux are starting to thin out.  But we just loaded up on one of these killer values from what is hailed as one of the best vintages ever in Bordeaux.  Critic Robert Parker said,
"It (2009) may turn out to be the finest vintage I have tasted in 32 years of covering Bordeaux."
Located on the banks of the Dordogne, Château Tour de Luchey houses a remarkable medieval tower. It was used for centuries by the "Luchey", which refers to the old French king's bailiff.  His job was to check the payload of vessels leaving the port of Bordeaux, taking the property of the king. Moreover, the domain has belonged to the Masse Henri family for five generations!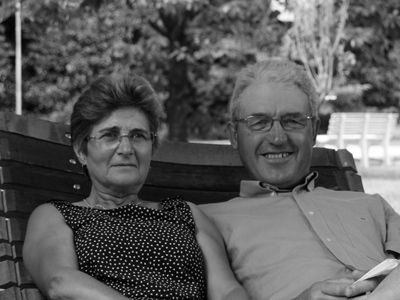 The Henri family (pictured left) did a wonderful job with their wine in 2009. It's a classic Bordeaux blend of 80% Merlot, 10% Cabernet Sauvignon, and 10% Cabernet Franc.  During  the growing season they opt for green harvests, which reduce yields in favor of quality.  They do machine harvest this wine (the wine would cost a lot more if they didn't), but they sort all the grapes by hand to make sure only the best ones are used.  The wine is then aged for 12 months in their castle before release.

What does it taste like?  Dark in color, it has a gorgeous nose, somewhat floral blackberry and black currant with a hint of chocolate. Flavors echo in the mouth, turning decidedly dry and earthy, with a hint of old wood and a note of leather that emerges with air. Full bodied and structured, you could easily lay this down for five years or drink it now like I did.  I opened a bottle a couple days ago and watched it improve the longer it was opened.   Yesterday I bought a case and I'll probably drink half over the holidays, and stick the rest in the basement.  Enjoy!

This wine is also now included in our December wines of the month, Four-Pack special.  It replaces the Chateau de Calce, which sold out quickly so we've replaced it with this great little value. 



Regular Price: $11.99
SALE Price: $8.99 net
SAVE 25% on a single bottle